Peter Swan & Sons Ltd
3 Dryden Loan
Bilston Glen Industrial Estate
Loanhead, Midlothian
EH20 9HR
Tel: 0131 448 0880
Fax: 0131 448 0881

WEEE Environment Agency Producer Registration No. WEEE/DK0002ZR
Laboratory Medical and Science Refrigeration Specialists.
Please check our recently updated list of offers and ex demo models
Products & Services
As a natural progression, the company's portfolio of equipment and expertise has expanded and diversified with medical / laboratory requirements to include the likes of:
Medical and Science Refrigeration
Pharmacy and General Laboratory Refrigerators and Freezers
Low Temperature and Ultra Low Temperature Freezers
Cooled Incubators and Specialist Chromatography Refrigerators
Plant Growth and Environmental Test Chambers
Flake Ice Machines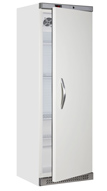 Our factory, which is situated on the outskirts of Edinburgh, includes fully equipped Temperature Controlled Environmental Test Rooms. Regardless of whether a cabinet is a £10,000 ULT or a £200 refrigerator, it is validated in our Test Rooms prior to despatch. The performance of every unit is tested in a controlled environment (set between +22°C to +26°C) to simulate typical lab conditions.
If necessary (and specified at point of ordering) this can be checked using equipment which has been calibrated to UKAS standard. Certification and documentation can also be supplied if required. As well as manufacturing and supplying, we have fully trained engineers who specialise in the repair and maintenance of specialist refrigerated equipment, including refrigeration for centrifuges, cryostats etc.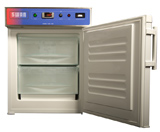 On most ranges of medical and science refrigeration equipment, we can quote for custom designed units to suit individual requirements. The models shown in our general catalogue are a guide - alternative capacities, sizes and "specials" can usually be quoted for. For specific enquiries, our experienced technical staff are available to advise on all the various options available.
Product specifications described are subject to change without notice, contact us for more details.
Refrigeration for medical and science applications We are the market leaders when it comes to medical and science refrigeration, supplying medical and science refrigerators to some of the most important laboratories and research centres. As samples and products often need to be kept at ultra-low temperatures, it's important you have the most advanced medical and science refrigerators possible. The fridges we manufacture are specially designed for use in the fields of science and medical research and are among the most technologically advanced on the market. We are pioneers in medical and science refrigeration, so when you purchase cooling appliances from us you can do so in complete confidence.